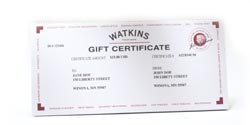 Watkins Sign Up Special is extended through March! Join my Watkins team of Consultants this month and qualify for a $20 gift certificate from our Summit Group founders and a $30 gift certificate from me!
Join right away and then invite your friends and family and co-workers to sign up with you as their sponsor and they qualify for a $20 gift certificate too!
Sign up at http://www.tsginfo.com/ew4346a or call Watkins at 1-800-WATKINS and give my name and ID# as your sponsor, Eleisia Whitney ID# 335001.
Join for a 25% discount on products for yourself, to help your family and friends get products, for a little extra income, or to build a part time or full time business.